White descendants with white-European roots have been victimizing descendants of black Africa since 1619 — that's 400 years and counting. The enslaved did not immigrate to the western hemisphere, nor did they emigrate from Africa. They were unceremoniously stolen, trafficked from diverse and disparate cultures, and trafficked into the slave trade. They were stuffed into cargo holds. If they survived their ocean transport they were sold as human resources — auctioned for their market value in a patriotically capitalist system to service the whims of a white-supremacist system. White supremacy is a system of nested partners in crime. The system merely asks its participants to refrain from questioning the unseemly exploitation that greases the machinery of "free" enterprise. Simply look the other way, assume that your complicity is self-delusion, judge it as one of those serenity prayer things that you cannot change.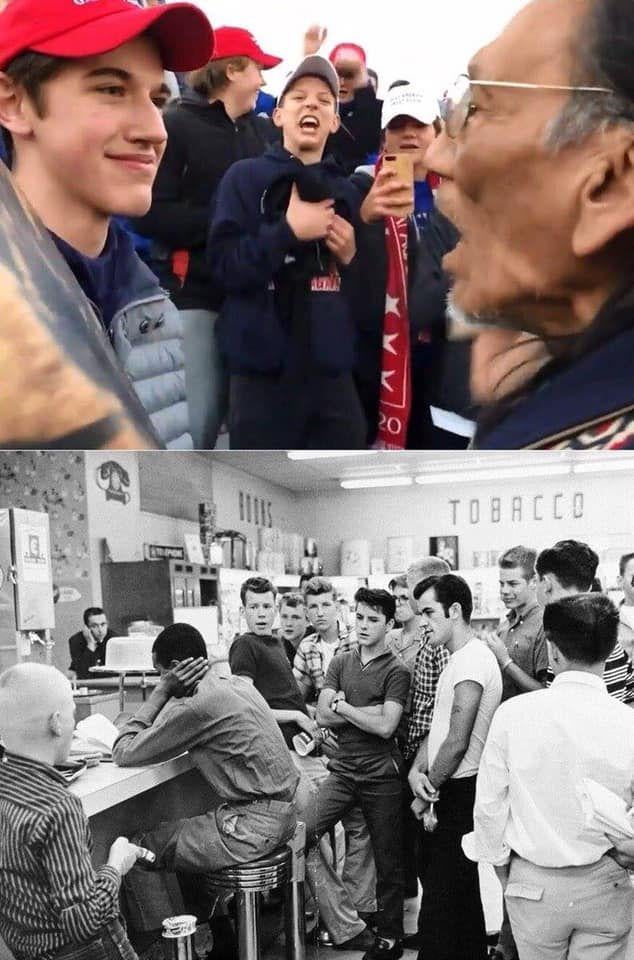 American descendants of slaves (ADOS) learn the same fabricated history as Americans who are not descendants of slaves, the same rote-memorizable pack of lies that forgive all the white criminal Presidents from Washington to W, merely interrupted from 2009 to 2017. Conservative pundits still assign Mr. Obama the honor of "worst President in history." Racist-apologists recoil at the very idea of a black man in a white house. Trump's pissing-rights in a Moscow hotel room represent one such reaction.
What happens when your brand of organized religion includes practically no black congregants? I grew up in such an institution and I tune in to their sizable media outlets as a listener with an opposing-viewpoint. An institution that proclaims its message "universal" — while compartmentalizing every conceivable viewpoint as adhering to a "natural law" — loses credibility at every point of departure.
Here is a black memory from a Catholic in Louisiana:
Kids played a game called "black baby," which involved throwing a ball or doll in the air and trying to catch it. I didn't interact with African-American Catholics because there were two Catholic churches in town. St. Joseph was the white church. Our Mother of Mercy was the black church. To this day, the Diocese of Lafayette has more racially segregated churches than any other diocese in the United States. I am told that my grandfather went to confession toward the end of his life and said, "I can't help it, Father. I hate N—s." He knew racism was a sin. He knew he was racist. I think we all knew we were.

https://www.americamagazine.org/politics-society/2016/07/27/white-catholics-have-talk-about-race-and-admit-their-racism
American descendants of European ancestry benefit richly and exceedingly from the system of white supremacy, a system that runs through US history like a red thread — I'm calling it a bloodied chain.
Classroom history texts must first be approved by a Texas committee that whitewashes each text used in all fifty States of its union. Ask anyone educated in an American school — from baby-boomer to millennial — you'll find that we all learned the same sound bites.
Trump created the Birther Movement to soothe the stomachs of those who benefited most from the white-supremacist system so rudely interrupted from 2009 to 2017. Racism was strong enough to assure a racist triumph of the will on November 8, 2016.
A few bullet points:
The choir does not need a new echo chamber.
The powerful are not lacking a societal voice.
The majority are not tyrannized by the minority.
Whiteous white supremacists are not victims of black supremacists, reverse-racists, or the Breitbart fantasy of civilization-destroying antifa who terrorize proud boys in an inconceivably anti-non-violent atmosphere that is poisoned by libtards and snowflakes.
Society does not only stand on the shoulders of giants, but also on the racist greed of the insatiably privileged.
Thanks for reading.